We might be gearing up for a summer of staycations, but that doesn't mean you can't escape to sea for a few days!
This summer, cruises are making a comeback thanks to the incredible new Summer Seacation season from Princess Cruises. A range of cruises sailing in the UK, just for UK residents.
You can take a mini-break at sea, or even visit some of the UK's amazing port cities like Belfast, Glasgow, Portland, and Liverpool. There are 3, 4 5, 6 and 7 night Summer Seacations available, so there are plenty of options to choose from!.
A couple of years ago, I took a ten-day Baltic cruise onboard Regal Princess and had an absolute blast. Not just because we visited some incredible cities – like Tallinn and St Petersberg – but also because the ship itself was amazing. So I wanted to share a few of my favourite reasons to book a Princess Cruise for a UK staycation with a difference this summer…
This post is brought to you in collaboration with Traverse and Princess Cruises. As always, all words and opinions are my own.
Two Incredible Cruise Ships
The Summer Seacations are being run on two of Princess' most incredible cruise ships.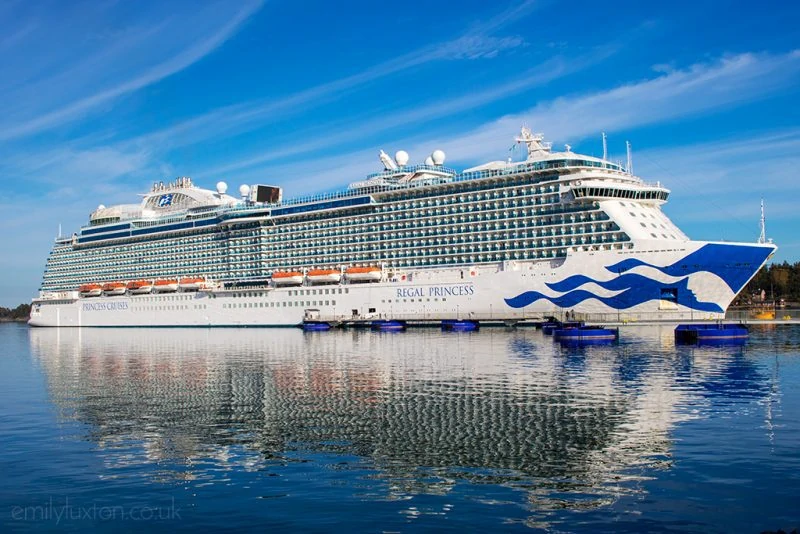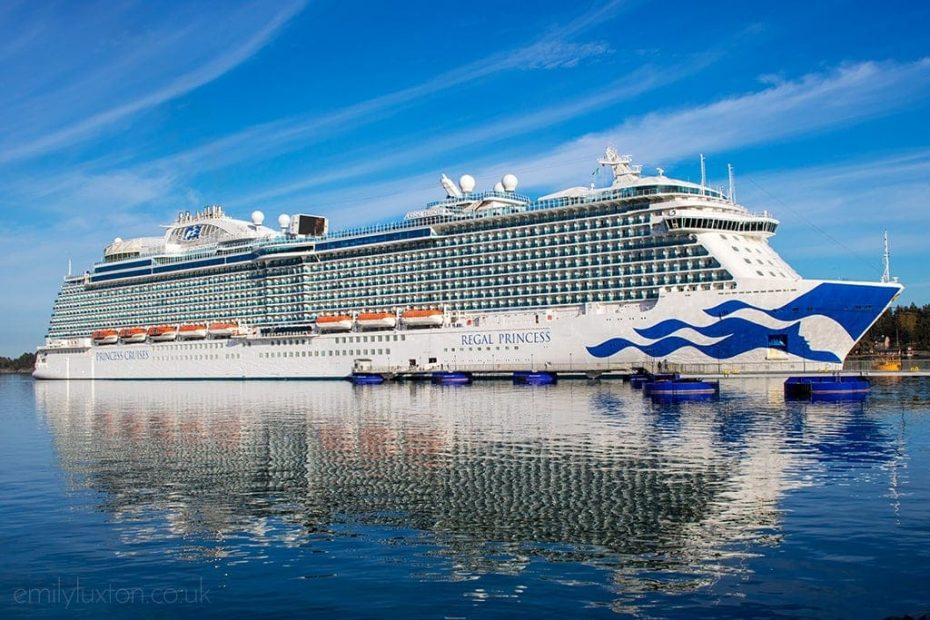 There's Regal Princess, which I was lucky enough to experience on my 10-day Baltic cruise a couple of years ago. It's a brilliant ship with so many facilities, great restaurants, and more to keep you busy!
Then there's Sky Princess, which launched in 2019. I've seen this ship second hand via a few blogger friends of mine, and it looks equally amazing. Check out Where is Tara's ship tour and video to see it up close.
ALL the Food!
One of my favourite things about my trip on with Princess Cruises was the food! There are so many dining options onboard you'll be hard-pressed to try them all, and you'll always be able to find something you like!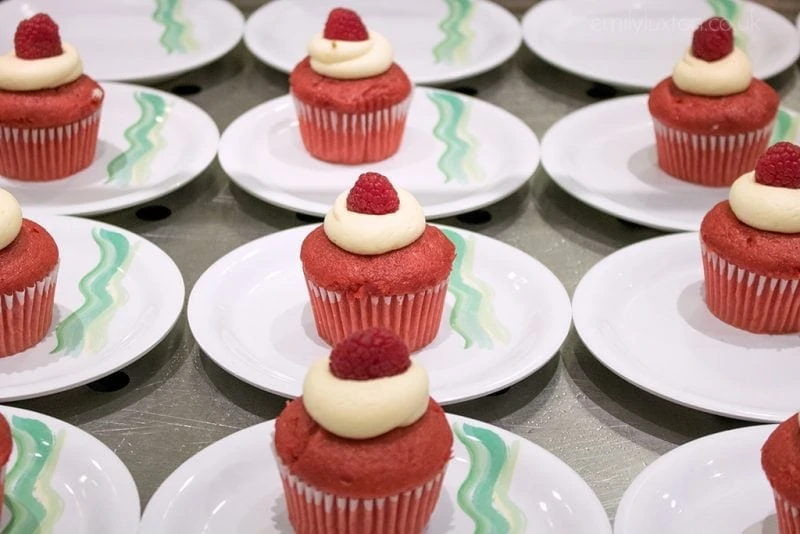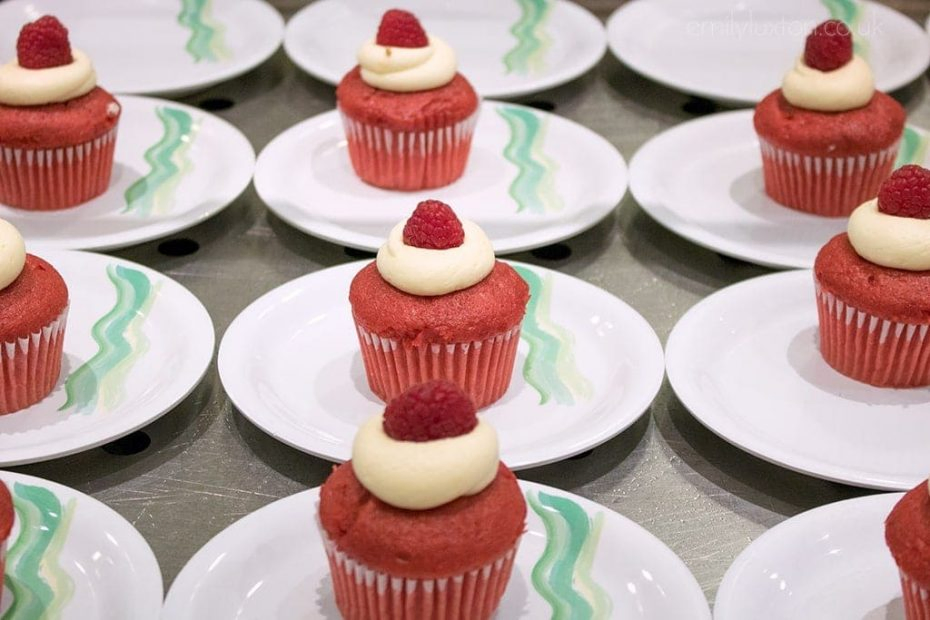 Most restaurants are included within your cruise price, so you don't have to pay extra for some truly amazing food experiences. Unless you want to treat yourself to an extra-special meal, like the Wine Makers Dinner.
To get more of an idea of how many different options there were, check out my guide to the dining options onboard Regal Princess here.
Movies Under the Stars
Another thing I absolutely LOVED on my Princess Cruise were the nightly movies, played on the big screen on deck.
You can snuggle on a sun lounger under a blanket, with stars overhead and the sounds of the ocean all around, and munch popcorn while watching a movie on the big screen. Such a fun way to spend a cosy night if you don't fancy hitting the bars.
Amazing Entertainment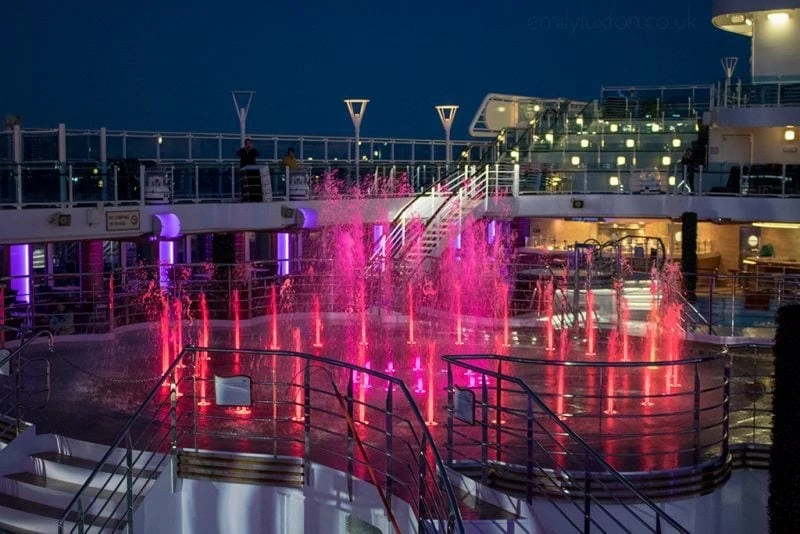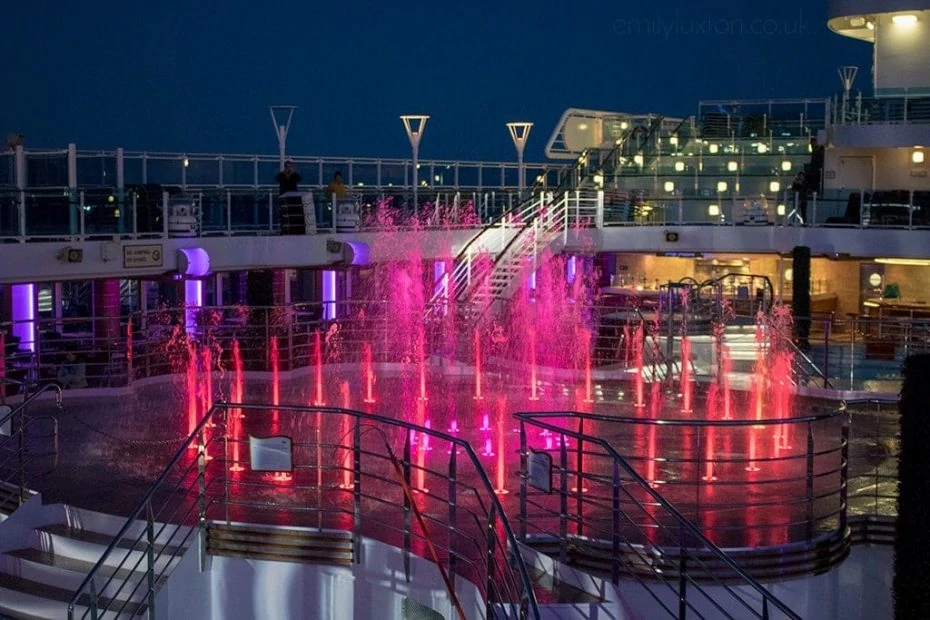 Speaking of entertainment, there's no shortage of it on board a Princess Cruise. From live music in the bars to lavish original productions in the Princess Theatre. For nightlife, there are multiple bars, a nightclub, and a Vegas-style casino.
Summer Seacations from Southampton even have an exciting lineup of Celebrity Guest Speakers!
Plus there's always something going on during the day if you need some entertainment. Or you can just laze by the pool, cocktail in hand. I loved that there was so much choice – meaning you can really make your holiday however you want it to be.
Those Pools!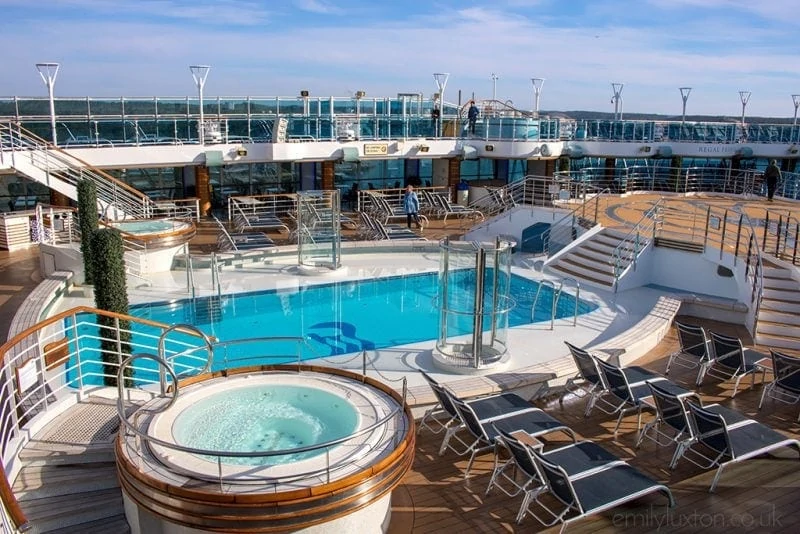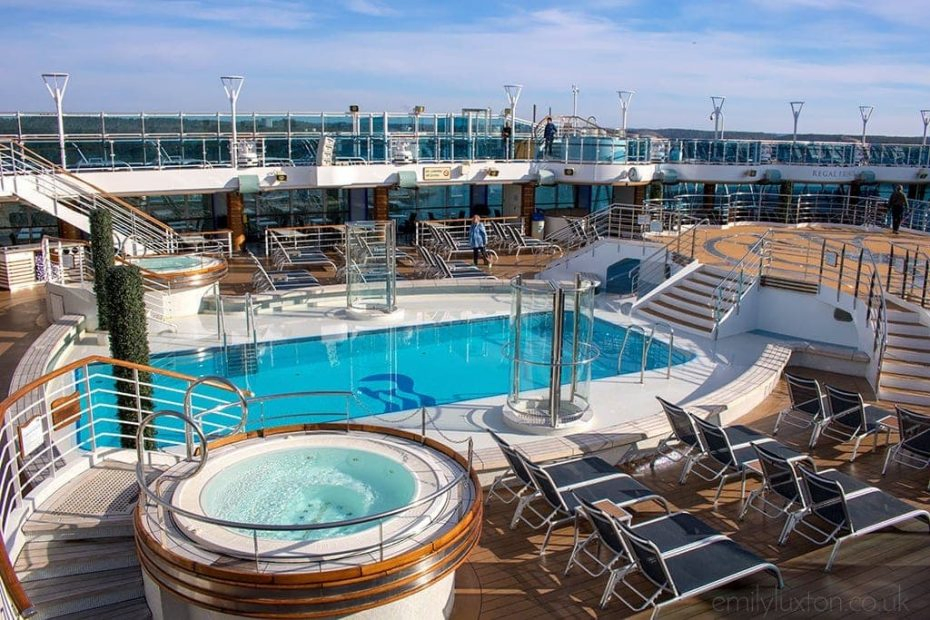 One of the highlights of any cruise is always the pool. Especially if you're at sea all day on a sunny day. Both ships have a great selection to help you cool off (assuming the British summer plays ball this year!).
More Activities and Facilities than you Could Possibly Use!
Again, the brilliant thing about a Princess Cruise is just how much choice there is. Regal Princess was packed with facilities and a great range of activities to keep you busy. And from what I've seen, Sky Princess is the same.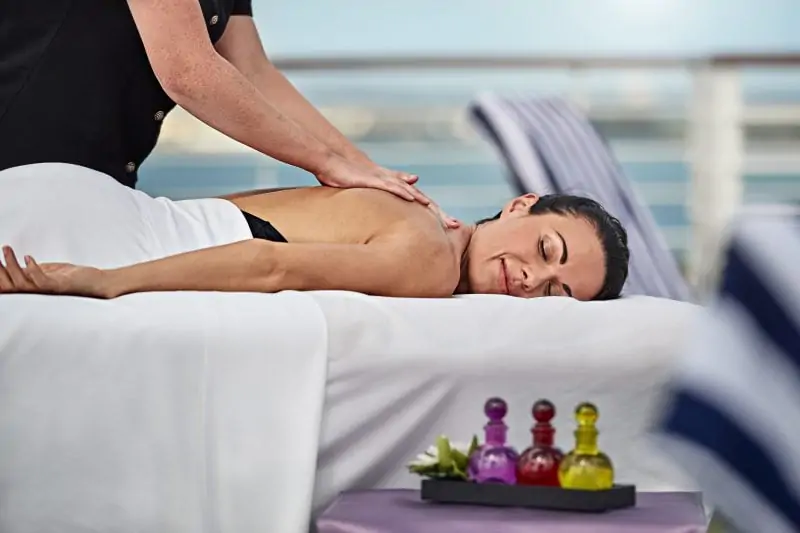 My personal favourite was the onboard spa, perfect for some much-needed relaxation – especially if you've over-indulged on the nightlife! I could have spent most of my trip rejuvenating in there.
Both ships also feature the SeaWalk, a glass walkway directly over the ocean – 128 feet above the waves!
For those that want to stay active on their holidays (not me!) there's a gym, fitness classes, a sports court, even a running track. There are shops, art galleries, festivals, courses… just such a huge range of ways to relax and have fun, in whatever way that means to you!
Some Fab UK Stops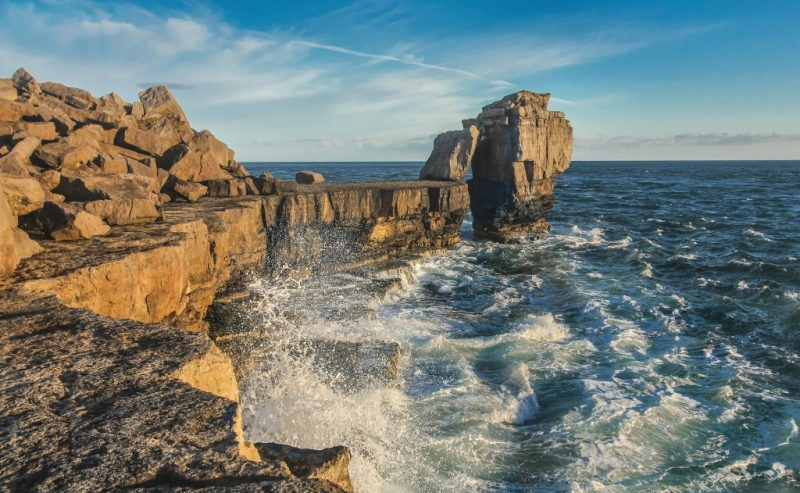 The shorter Summer Seacations cruises have no port stops, just 3 or 4 nights at sea to allow you to fully make the most of the ship and everything onboard.
But there are also several cruises with some brilliant stops around the UK, allowing for on-shore excursions. You could visit a part of the country you've never been to before!
Explore Liverpool, London, Glasgow, Belfast, or – my personal favourite – Portland in Dorset!
All Summer Seacations start and end in Southampton, which is also a really fun city to explore before or after your trip.
There are some really exciting stops all around the UK and it's such a brilliant and unusual way to explore your own country!
OceanMedallions for a Touchless Experience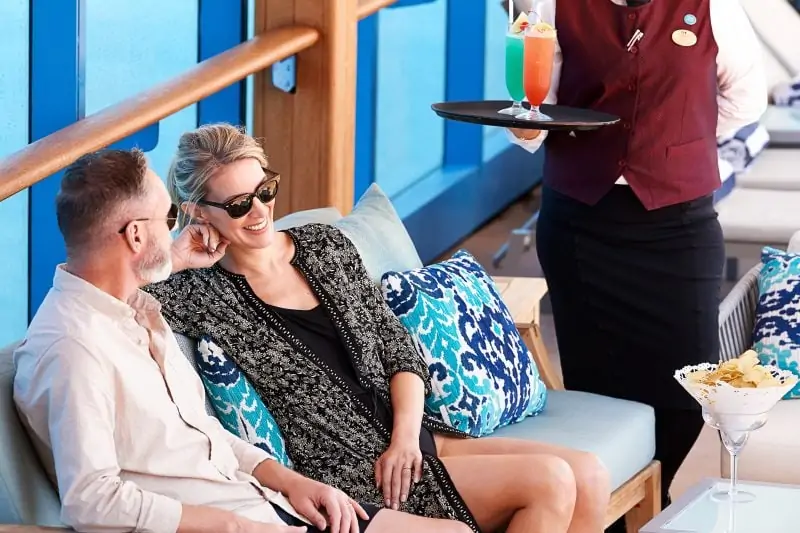 When I did my cruise, Princess Cruises had just launched their new OceanMedallions™. These are tiny, wearable devices (about the size of a 10p) which make your whole onboard experience effortless.
They do everything! Contactless boarding, locating your friends and family onboard, even contactless payments.
With the MedallionClass app, you can use the OceanMedallions to order from the bars, restaurants and shops for delivery right to your location – no more queueing! They even unlock your stateroom – so no more losing your room key or finding your key-card suddenly doesn't work!
This MedallionClass experience has now been added to the whole Princess fleet, so all their ships are "smart ships" and any holiday booked with them will be a brilliantly effortless one.
Best WiFi at Sea!
As part of the MedallionClass, you can also get access to the "best WiFi at sea" for an additional charge. It's fast, reliable, and strong enough to stream movies or make video calls – pretty impressive whilst you're at sea.
MedallionNet® Wi-Fi lets you access the internet anywhere onboard – with various reasonably priced packages to choose from.
The best Wi-Fi at sea is also included in the all-inclusive Princess Plus Fare (£30pp per day and includes premium drinks, Wi-Fi and crew incentive – worth over £65pp per day).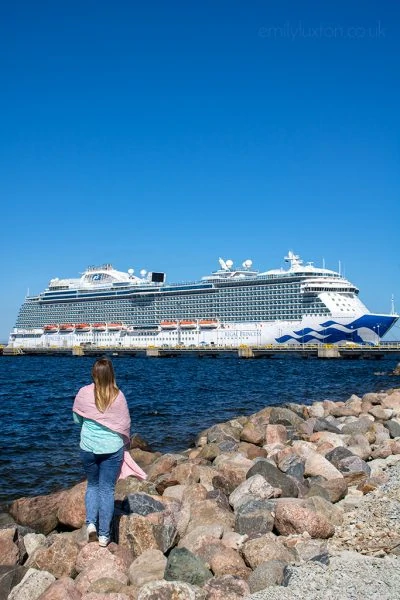 More Info
The Princess Cruises Summer Seacation season from Southampton starts from 31 July 2021.
These cruises are available to UK resident COVID-19 vaccinated guests only (check their T&C's for more info). The cost of any testing which may be required at the time of travel is included in the fares.
Keeping you Safe & Protected
New COVID-19 Guest Protocols to keep everyone safe
Enhanced onboard sanitation
Highly-trained onboard medical staff
Enhanced air filtration with upgraded HVAC systems
Touchless Experience thanks to MeallionClass
Princess Cruises' book with confidence policy offers protection and flexibility if you need to cancel or change your travel plans. Included within this is the new COVID protection programme covering you from within 30 days of your sail date right through to disembarking your cruise.
This post was originally published on Emily Luxton.