Mona… who? Navigate the Louvre, Orsay and Pompidou with our guide to the 25 other artworks you must see in Paris.
If your idea of fun isn't queuing for hours only to be ushered inside a cattle pen metres away from a glass box with a small woman in it, good news – Paris is overflowing with other masterpieces that every visitor to the city should see. There are so many excellent temporary exhibitions on here at any one time that it's easy to rush past the extensive permanent collections at the Louvre, Orsay and Pompidou without paying them a second thought. That's why we thought we'd pay homage to the objectively brilliant (but sometimes underappreciated) artworks that you can see in Paris museums and galleries all year round. These are the 25 best.
Unmissable artworks in Paris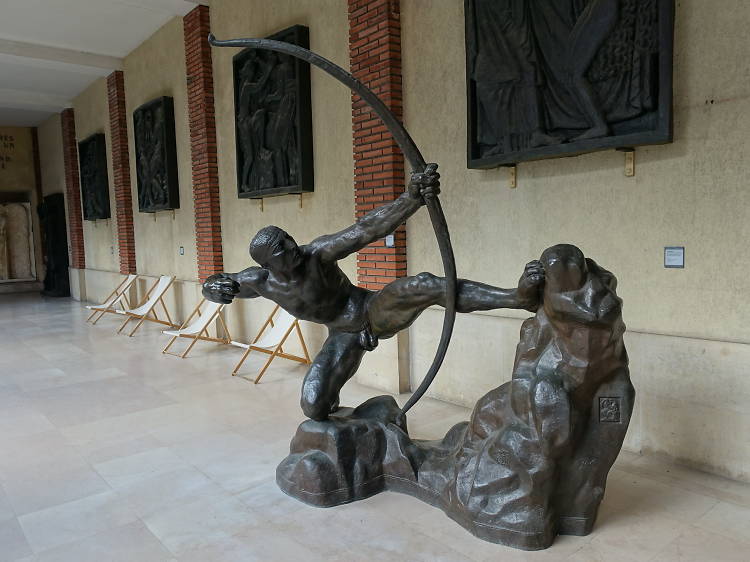 25. 'Héraklès Archer' – Antoine Bourdelle (1906-1909)
Musée Bourdelle
Upon its completion in 1909, this monumental depiction of the sixth labour of Hercules appalled one half of the public and fascinated the other. Its sheer scale was a factor, but it was the striking modernism of the statue, with its distorted anatomy and idealised lines, that really bowled people over. Twenty-six years after his arrival in Paris, Antoine Bourdelle had announced his emancipation from the lyrical style purveyed by his master Rodin. 'Héraklès' sealed his fame and set him on a career path that saw him become a teacher and mentor to the first generation of the 20th century: Giacometti, Brancusi, Maillol and their contemporaries. It remains his most representative work, and a tipping point in the passage of sculpture from the 19th century into modernism.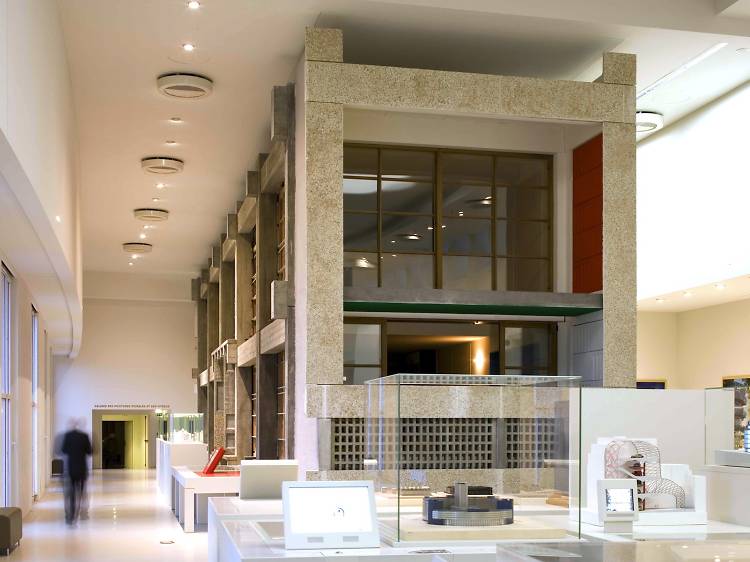 24. 'Unité d'Habitation' – Le Corbusier (1945-1952)
Cité de l'Architecture
'Sun, vegetation and space are the three raw materials of urbanism.' So declared Le Corbusier in his 1941 manifesto for modern urbanist architecture. Before long, his theories of harmonious living were being seized upon by city planners trying to navigate the post-war population boom; his utopian principles were most famously integrated into the Cité Radieuse (Radiant City) building, erected in Marseille between 1947 and 1952. The self-described 'vertical village' brought together a gym, pool, primary school, auditorium, shopping centre and residential flats under one roof. The building still stands, but if the prospect of an architectural pilgrimage to the south of France doesn't entice you, go check out this replica of one of the flats at the Cité de l'Architecture.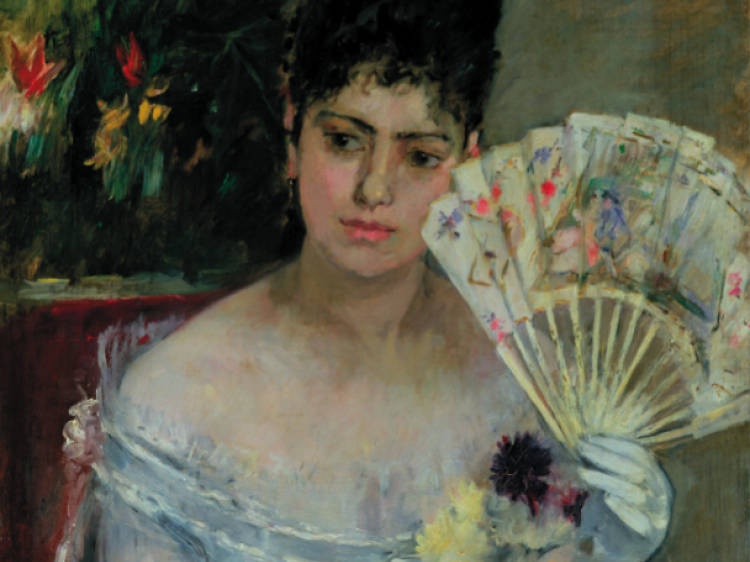 23. 'Jeune Fille au Bal' – Berthe Morisot (1875)
Musée Marmottan-Monet
In the 1870s, Paris's haute société was trying to work out what it made of the art scene's Young Turks, the impressionists. The establishment wasn't convinced. 'Five or six nutters, including one woman; a bunch of miserable people struck down by the madness of ambition,' is how the journalist Albert Wolff pithily described them. The woman in question was Berthe Morisot, in many respects the equal of her colleagues, yet far less well known today. Her striking style is on full display in this, one of her more famous pieces, painted at the peak of her powers and ambition. The interplay of light and shade, the way in which the red of the flowers magnifies the woman's paleness, the specks of silver that pepper the canvas, all prove her mastery of colour and tone. The lady's expression, meanwhile, is a study in ambiguity, her seductive mouth offset by a certain gravity in her gaze. On the strength of this portrait alone, Morisot deserves to be reappraised.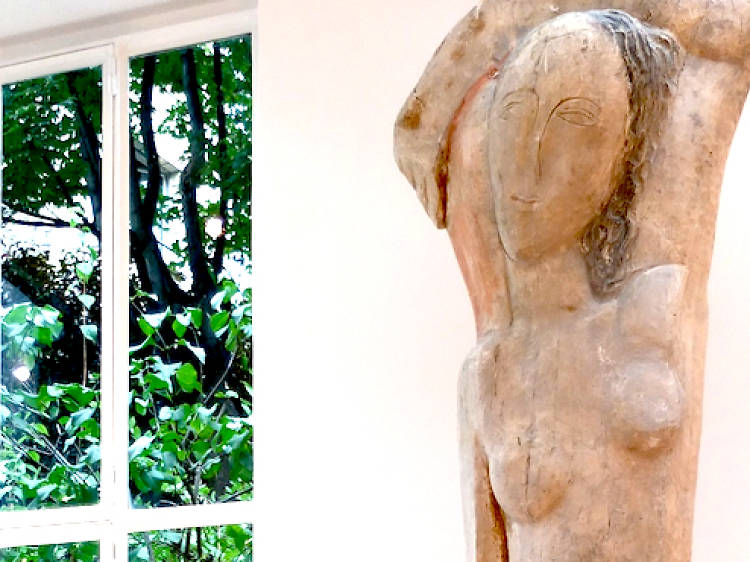 22. 'Rebecca' – Ossip Zadkine (1927)
Musée Zadkine
The flagship artwork of the Musée Zadkine, 'Rebecca' stands guard over the gallery, bathed in the sunlight that filters through the glass roof above her. The jug that she shoulders marks her out as one of the Russian sculptor's 'water-bearers', a motif that recurs throughout his oeuvre (check out 'Stella' in the next room). Her plaster surface is pockmarked with the blemishes of the wood from which she was cast, and her oddly proportioned anatomy – short legs, elongated torso – hint at the influence of the freely expressionist language of African sculpture. 'Rebecca' is a paragon of the styles and themes that preoccupied this most eccentric of artists, and a perfect introduction to the work on show in this charming museum.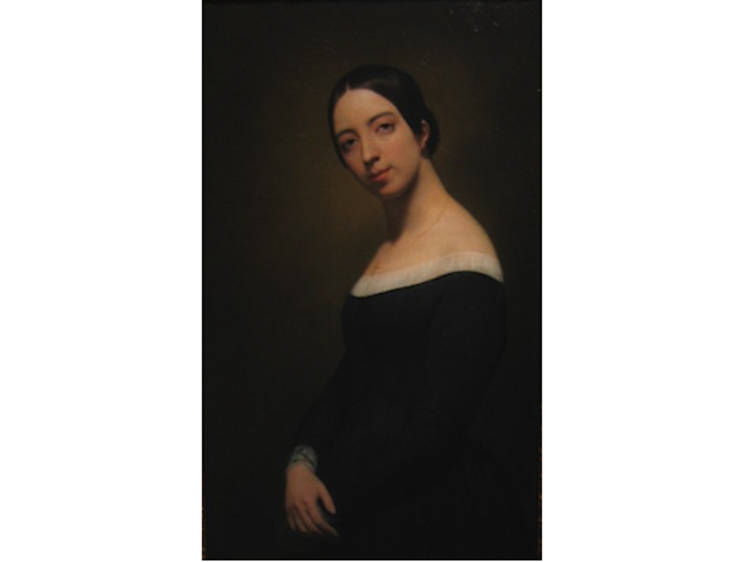 21. 'Pauline Viardot' – Ary Scheffer (1840)
Musée de la Vie Romantique
Viardot was one of the most renowned singers of her day, admired by Chopin and Liszt and adored by George Sand. This austere portrait by Ary Scheffer (1795-1858) captures something of her 'irresistible ugliness', as her friend Saint-Saëns put it. Scheffer himself was won over – he later remarked that although she was 'terribly unattractive, if I saw her again I would fall madly in love with her'. In her heyday, Viardot reigned supreme over the Pigalle nightlife scene, though she is largely forgotten today; a century after her death, her portrait beguiles visitors to the Musée de la Vie Romantique, around the corner from her old haunts.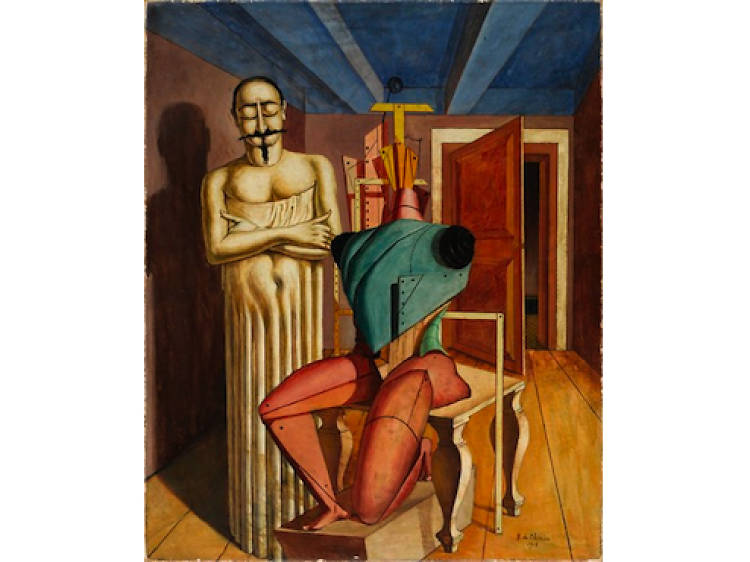 20. 'Il Ritornante' – Giorgio de Chirico (1918)
Centre Pompidou
The geometric décor with its heightened perspective and troubling shadows, the incomplete figures with their wooden bodies and pale faces make up an elusive world of strong lines but obscure meaning. A master of the 'incongruous', extolled by the surrealists shortly afterwards, by 1910 Giorgio De Chirico (1888-1978) was already putting together most of his tableaux through dreams and intuition. And so it is with 'Il Ritornante' ('The Phantom'), which brings together multiple motifs linked to fantasy, the past and the unconscious – a piece whose surrealist accents are ahead of its time.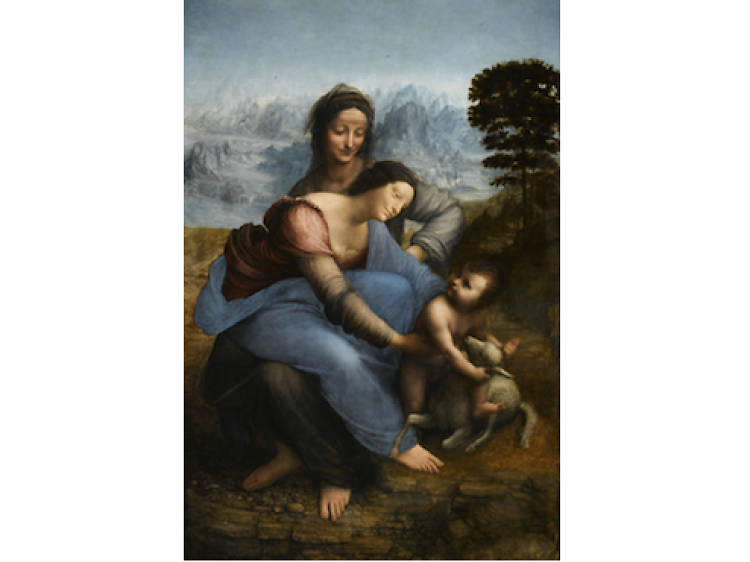 19. 'La Vierge, l'Enfant Jésus et Sainte Anne' – Leonardo da Vinci (c. 1503)
Musée du Louvre
As the smiling lady continues to draw the crowds of Nikon-wielding tourists, the rest of the Louvre's exhibits lose out – perhaps none more so than Leonardo's other paintings. Case in point: this unfinished scene of the baby Jesus, Mary and her mother Anne. The composition is typically ambitious, Mary's embrace of her child paralleled by his gesture toward the lamb – a symbol of the sacrifice that will drag him into the symbolic abyss, represented in the foreground. No wonder old Leo spent the last 20 years of his life trying to polish it off. The painting was subjected to a controversial restoration in 2012, from which (according to experts) Anne's face emerged a tad coarser than it had been. Say what you will; for her 500 years, she looks admirably well preserved to us.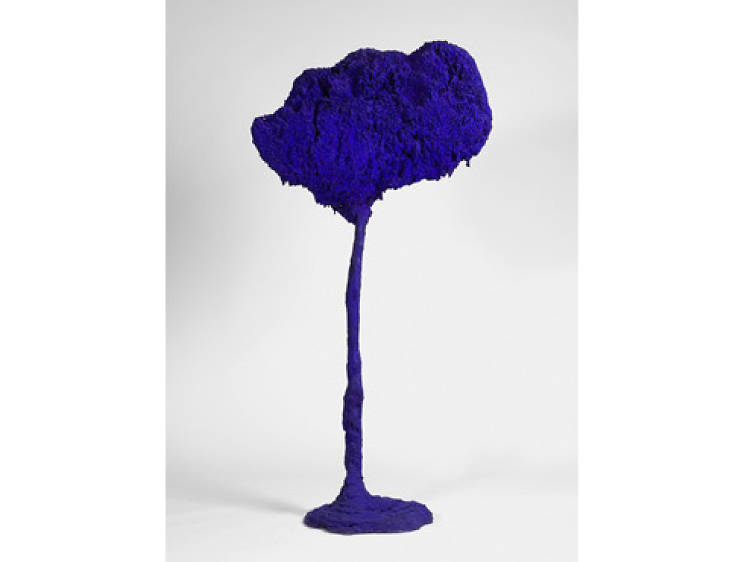 18. 'SE 71, l'Arbre, Grande Éponge Bleue' – Yves Klein (1962)
Centre Pompidou
Yves Klein was so into monochromatic colours, he even had his own brand of blue, the famous deep, electric 'IKB' ('International Klein Blue') whose chemical formula he registered at the Institut National de la Propriété Industrielle in 1960. From the 1950s his studio was filled with enormous monochrome canvases – monoblue, monochrome, monopink and monogold. Then, Klein remarked on the beauty of his painting implement– a sponge soaked in blue paint, infused with the pigment in the way that Klein wanted to world to drink in his IKB. He decided immediately to concentrate on a series of 'sponge reliefs' and 'sponge sculptures'. With their curves, textures and folds, these works appear quite organic, recalling vegetables, rock or coral. The most monumental of these sculptures is 'L'Arbre' at the Centre Pompidou, one of the last works that Klein finished before his death from a heart condition at the age of 34.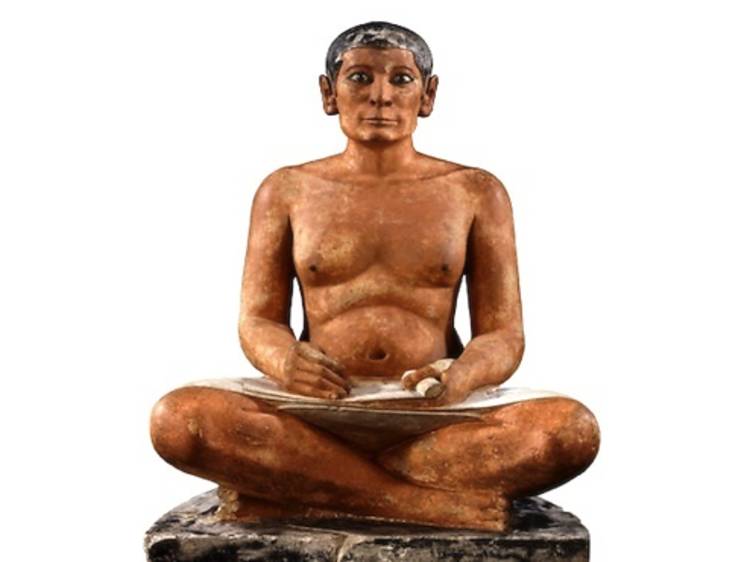 17. 'Le Scribe Accroupi' (2600-2350BC)
Musée du Louvre
The identity of the crouching scribe is a mystery – though since its discovery in 1850, it has been one of the most popular works at the Louvre. At a guess, he was a lowly administrator, destined to count landowners' sheep in his native Ancient Egypt, or to scratch out poems on demand. With its bright colours and detailed realism (the artist even took the trouble to outline the nipples using two wooden pegs, and to model a bulge under the loincloth), this remarkably well-preserved limestone sculpture remains one of the most extraordinary artistic remains from Ancient Egypt.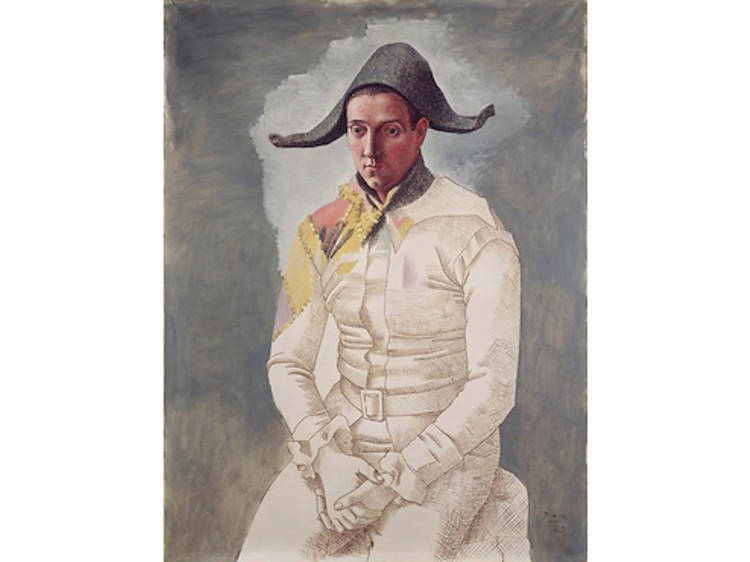 16. 'Arlequin' – Pablo Picasso (1923)
Centre Pompidou
When he painted this harlequin in 1923, Picasso was already an art world superstar. Since the armistice in 1918, his works had been touring the capital in the most talked-about exhibitions of the day. At a time when classicism was making a comeback in post-war Paris, he played perhaps more than ever with the divisions between the academy and the avant-garde. He painted the harlequin subject many times – this example (a portrait of his painter friend Joaquín Salvado) is half drawn straight on to the canvas, half painted with extraordinarily fine execution. Condensing different styles, almost like a collage, he celebrates the artifice of artistic representation and shows us, behind his classical airs, a furiously modern temperament.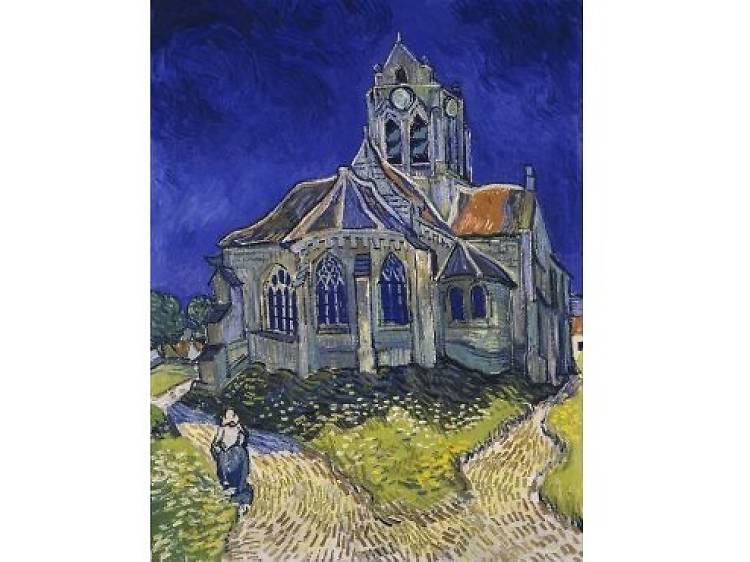 15. 'L'Église d'Auvers-sur-Oise' – Vincent van Gogh (1890)
Musée d'Orsay
When he moved to Auvers-sur-Oise in May 1890, van Gogh had barely left the psychiatric hospital in Saint-Rémy-de-Provence. It was the beginning of a very productive creative period – his last – resulting in around 70 canvases in two months before his death in July. This agitated view of the church at Auvers already suggests a mood of expressionism, of which van Gogh was a precursor. The exaggerated forms, deep colours and thick paint give the composition a gothic aspect (in reality, the architecture is rather more subtle and rounded). The building looms over the perspective, flattening the composition, and the features of the sky and the ground accentuate the impression of convulsion. It's an anguished depiction of the church where Van Gogh would be buried, just a few weeks after completing this canvas.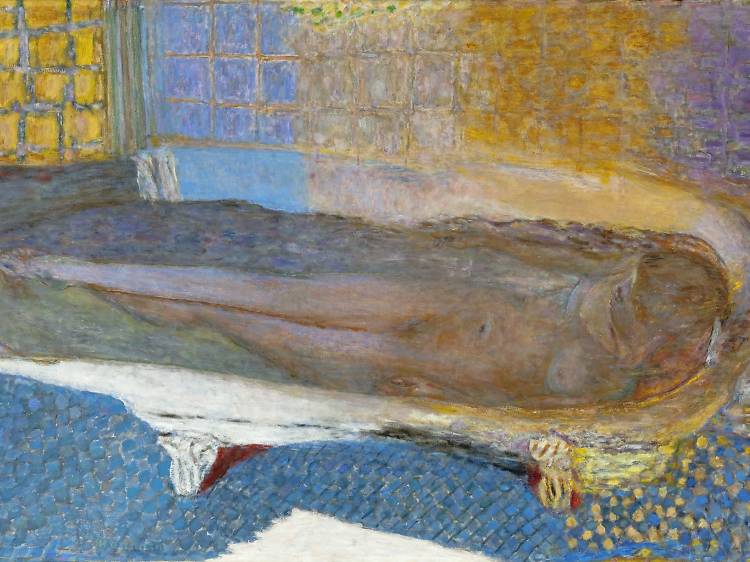 14. 'Nu dans le Bain' – Pierre Bonnard (1936)
Musée d'Art Moderne
Perhaps what Pierre Bonnard (1867-1947) did best was to fill daily scenes with light and colour – particularly with his series of paintings of his wife Marthe in the bath. A particularly fascinating variation on this theme, 'Nu dans le bain' at the Musée d'Art Moderne offers a slightly hallucinatory vision of Madame floating languorously in the water. The blurred forms, the mixture of colours and the light playing on the water, the parquet and on Marthe's wet skin create a strange confusion between the exterior and interior worlds in the bathroom.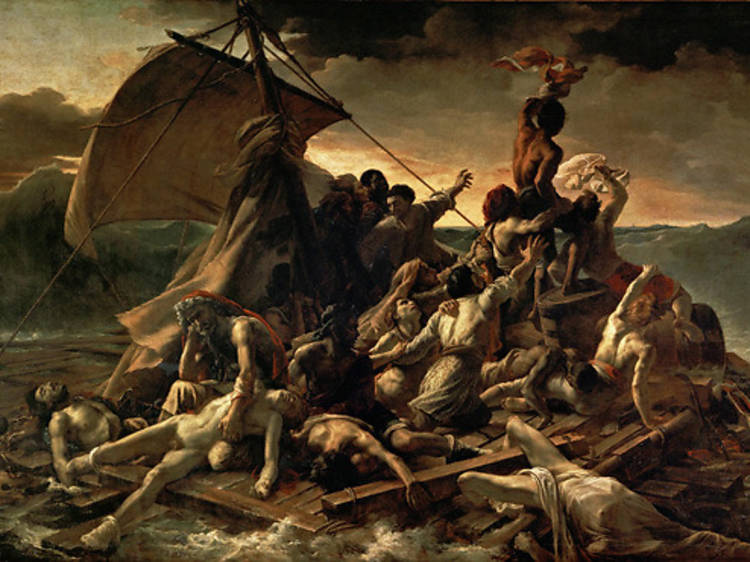 13. 'Le Radeau de la Méduse' – Théodore Gericault (1818-1819)
Musée du Louvre
In 1816 the Méduse, a French frigate engaged in colonising Senegal, ran aground on a sandbank. 150 men had to construct a raft to try and make it back to dry land – 13 nightmarish days followed, hunger and thirst driving them to cannibalism. Only 10 survived.
Géricault worked on the subject for three years, trying to bring together art and life. He interviewed the survivors, created a model of the scene and studied corpses in his studio, before presenting the huge five-by-seven-metre canvas at the 1819 Salon, where its darkness fascinated and scandalised the audience. Today, 'Le Radeau de la Méduse' is seen as one of the masterpieces of 19th-century painting, its pyramid composition and strong contrasts making it famous as an incarnation of romanticism. A metaphor for human solitude or hope, it can also be seen as a critique of slavery.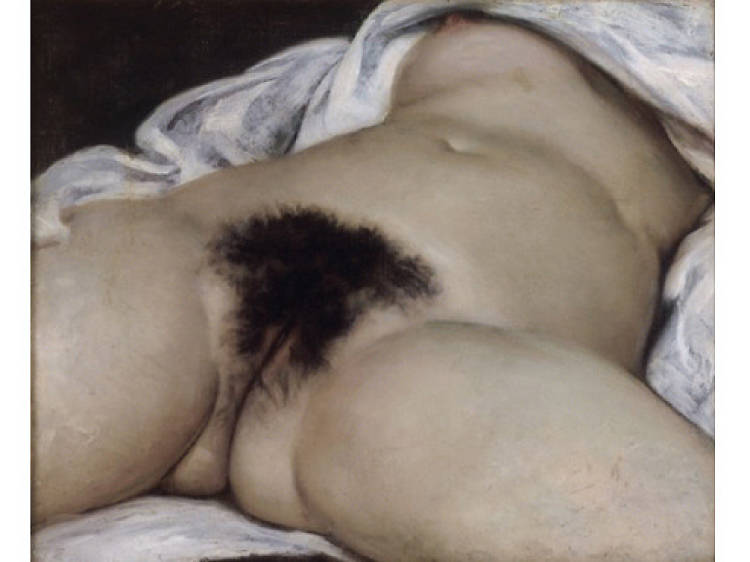 12. 'L'Origine du Monde' – Gustave Courbet (1866)
Musée d'Orsay
Even the title is a provocation: without Genesis or Big Bang, the origin of the world is uncompromisingly presented as the female sex. If female nudity is hardly new in art history, from prehistoric fertility goddesses onwards, Courbet's approach was the first time it was shown so direct and realistically, far from the idealisation of Ingres or the concealing hand of Manet's 'Olympia' – which itself created a scandal three years earlier. Courbet first sold 'L'Origine du Monde' to Turkish diplomat Khalil-Bey along with another erotic piece – it was later acquired by a Hungarian collector before finishing up hidden behind another canvas by André Masson in psychoanalyst Jacques Lacan's apartment. On display at the Orsay since 1995, 'L'Origine du Monde' continues to trouble its viewers today – you only have to look at the faces of people who pass it in the museum.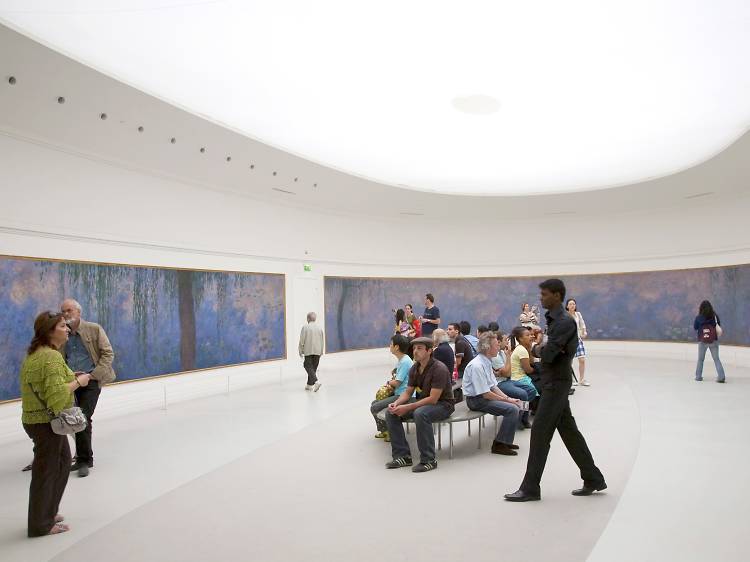 11. 'Les Nymphéas' – Claude Monet (1914-1926)
Musée de l'Orangerie
Nearly 100 metres of lilies, shadows and water stretch across the curved walls of the Orangerie. It's not for nothing that 'Les Nymphéas' features on most tourist itineraries, sometimes overloading the Tuileries museum. Twelve years of work and eight panels went into Monet's masterpiece, whose dimensions, almost abstract beauty and impression of infinity never cease to fascinate. Here, Monet condenses a lifetime's visual research in his career as an impressionist.
Drawing on his garden at Giverny over 30 years, the Orangerie paintings are his most successful depictions of his ponds, which he painted more than 200 times. They represent the water at different times of the day, from dawn until dusk. If they've been hanging in the museum since 1927 (Monet promised to donate them to the State the day after the armistice in 1918), we had to wait until the museum's renovation in 2006 to see 'Les Nymphéas' in the gorgeous environment that hosts them today.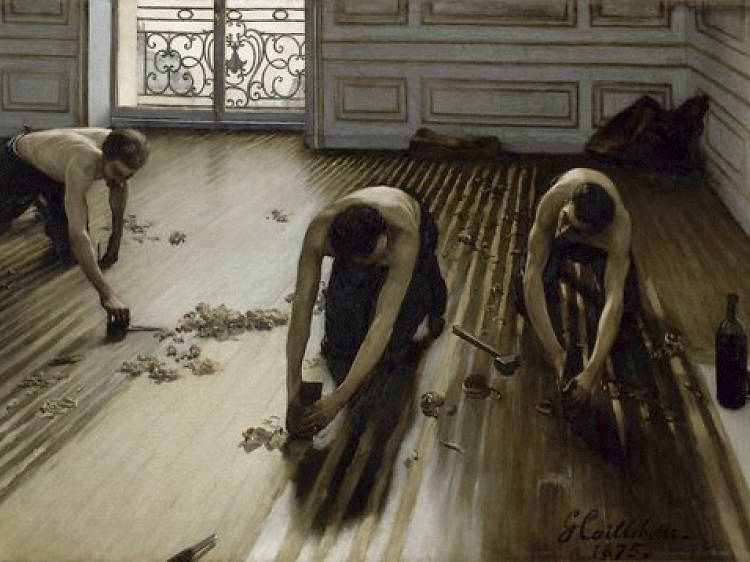 10. 'Les Raboteurs de Parquet' – Gustave Caillebotte (1875)
Musée d'Orsay
Once he inherited his father's industrial fortune, Gustave Caillebotte could finally devote himself to painting. He also became the patron of his friends Degas and Renoir, and financed impressionist exhibitions – so much so that at the time, he was known better as a collector than as an artist. It wasn't until the 1970s that his pieces were finally taken at their real value – and in first place, these 'Raboteurs de Parquet' ('The Floor Scrapers').
From a 'common subject', one of the first representations of the urban proletariat, Caillebotte created an unusual, extremely modern tableau, which could be compared to Degas's laundrywomen or Millet's 'The Gleaners'. The framing is unbalanced and the perspective unusual – Caillebotte seems to have been inspired by photography, adding a documentary element to these men working on the renovation of a Haussmann-era floor.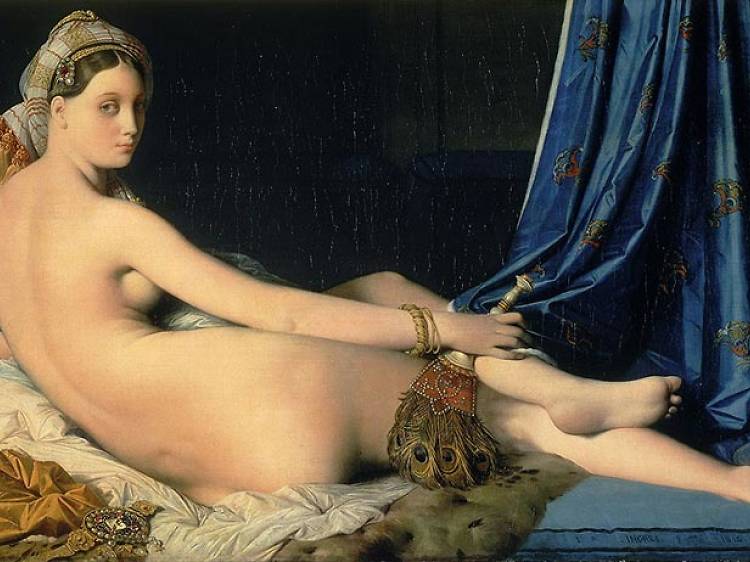 9. 'Grande Odalisque' – Jean Auguste Dominique Ingres (1814)
Musée du Louvre
Sometimes, the smallest things in art can have the greatest significance – in the case of Ingres's 'Odalisque', it's three vertebrae added to the spine of his lady of the harem. They are a clear anatomical error, and contradict the teaching of Ingres's tutor, Jacques-Louis David. The three vertebrae are a manifesto – displeasing the critics, who denounced the image violently – Ingres is showing that art need not submit itself to realism, and that the painter can sometimes sacrifice verisimilitude to the advantage of beauty.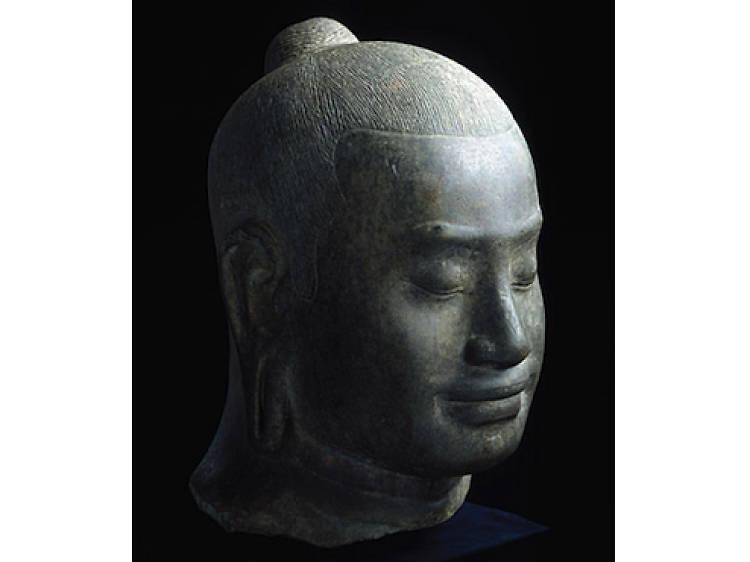 8. 'Tête de Jayavarman VII' (13th century)
Musée Guimet
The reign of Jayavarman VII saw the return of the Khmers to Cambodia and Angkor: after a long exile, the king reclaimed his territories. Perhaps disappointed in the protection his religion had offered, the king turned from Hinduism to Mahayana Buddhism, which he installed as the state religion.
This change engendered a new aesthetic, and explains the sobriety of this sandstone head. The sovereign appears very humble, eyes lowered, at peace. The 'smile of Angkor', gentle and enigmatic, hovers around his mouth. There's no finery or royal insignia here – the power of the reconquering monarch is self-evident in the clean lines of his skull and the serene harmony that emanates from the stone. One of the masterpieces in the history of sculpture, the symbol of a brilliant period that came to an end in the middle of the 13th century with the return of Hinduism.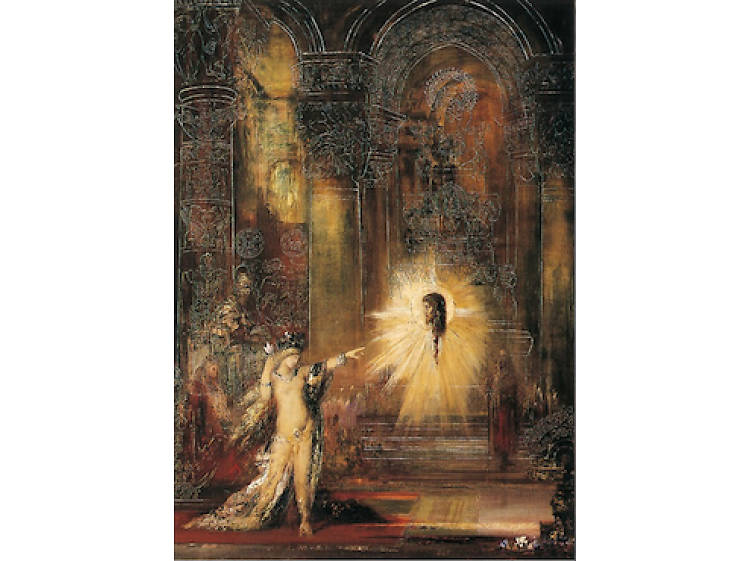 7. 'L'Apparition' – Gustave Moreau (1876)
Musée National Gustave Moreau
Moreau was incontestably one of the great masters of symbolism. His work was created in opposition to the dominant forms of his day, offering those who looked for it a glimpse into his strange, poetic and fascinating imagination. At the end of his life he chose to leave his atelier and all his works to the French state, on the condition that it would all be transformed into a permanent museum. Cluttered with innumerable paintings, the museum itself is like a work of art. This version of 'L'Apparition' is less well-known than its twin at the Musée d'Orsay, but no less fascinating. It shows a passage from the Bible: the myth of Salomé with the head of Jean-Baptiste. Next to the innumerable painters who have addressed this subject over the centuries, Moreau is an enfant terrible, exploring his subject without any constraints on his imagination.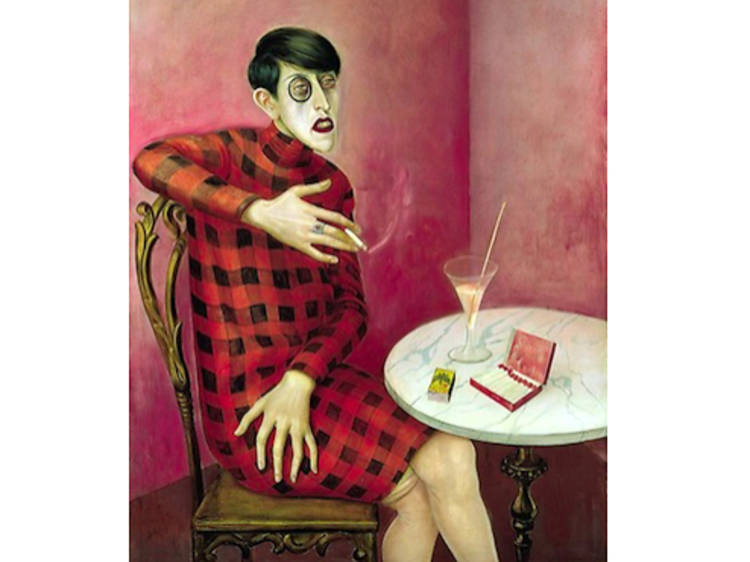 6. 'Portrait de la Journaliste Sylvia von Harden' – Otto Dix (1926)
Centre Pompidou
By choosing to paint an emancipated woman drinking and smoking alone on a café terrace, monocle fixed to her eye, Otto Dix addressed the new inter-war society in the heart of Berlin, where he spent two years from 1925-1927. Dix portrays these intellectuals in the same way as he portrayed the violence of the 1914-18 war: neither hiding nor exaggerating reality, but sketching ambiguous, charismatically ugly figures. His compositions are always interrupted by details that disturb their harmony: here, the fallen stocking clashes with the apparent assurance of the journalist, just as her dress is at odds with the art deco furniture that surrounds her. With her greyish skin, spider-like fingers, bony body and masculine allure, Harden's portrait is one that best summarises the New Objectivity of Weimar Germany.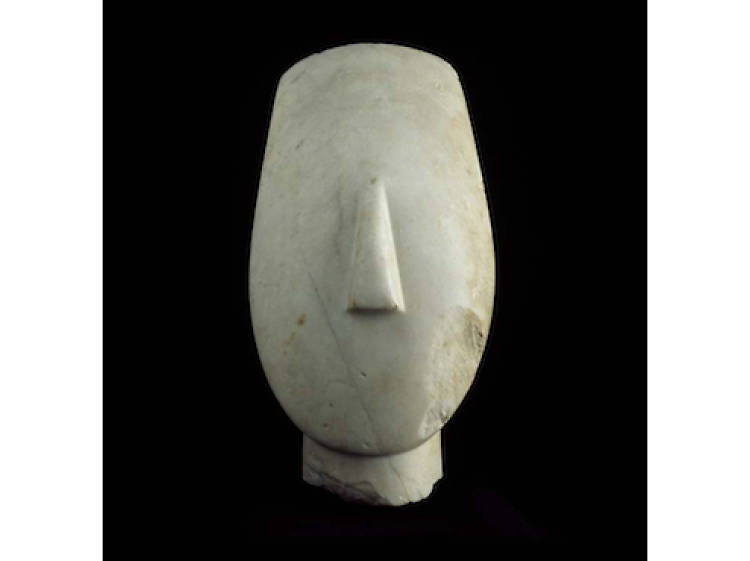 5. 'Tête d'Idole aux Bras Croisés' (2700-2300 BC)
Musée du Louvre
With its triangular nose, polished marble and simplified geometric forms, you'd be forgiven for thinking that this was a piece by Brancusi. But despite its sheen and stylised traits, this apparently modern statue was created in ancient Greece, between 2700 and 2300 BC. Originally, this head topped the body of 1.5m high statue of a woman and was decorated with touches of paint at eyes and lips. Today, only the ears and nose indicate the face shape – an extraordinarily well-preserved and highly convincing image from an ancient civilisation on the island of Keros.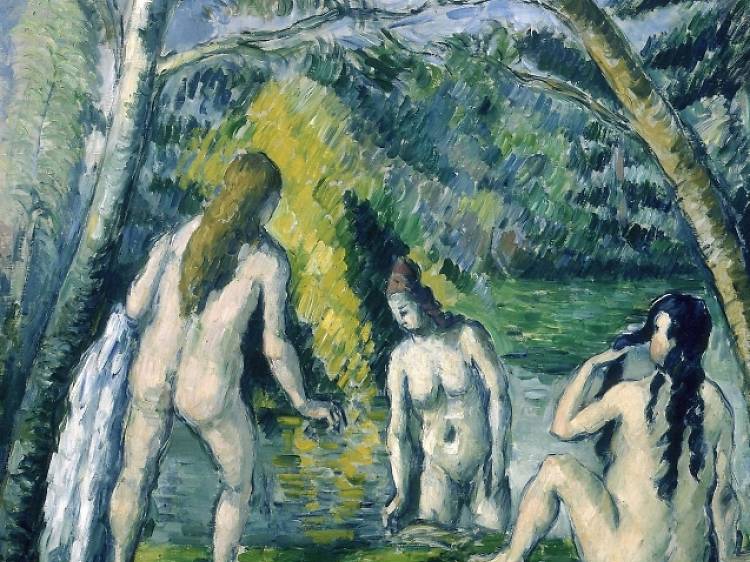 4. 'Trois Baigneuses' – Paul Cézanne (1879-1882)
Petit Palais
Cézanne painted bathers hundreds of times; this particular canvas was a favourite of Matisse, who bought it in 1899 and kept it, jealously guarded, at his private home for nearly 40 years before giving it to the Petit Palais in 1936. Admiring the composition, he called it 'very dense', all in dramatic diagonals. The composition is full of movement, the three figures seeming to blend with the verdant scene around them – it almost smells of the wild, and offers a foretaste of Cubism.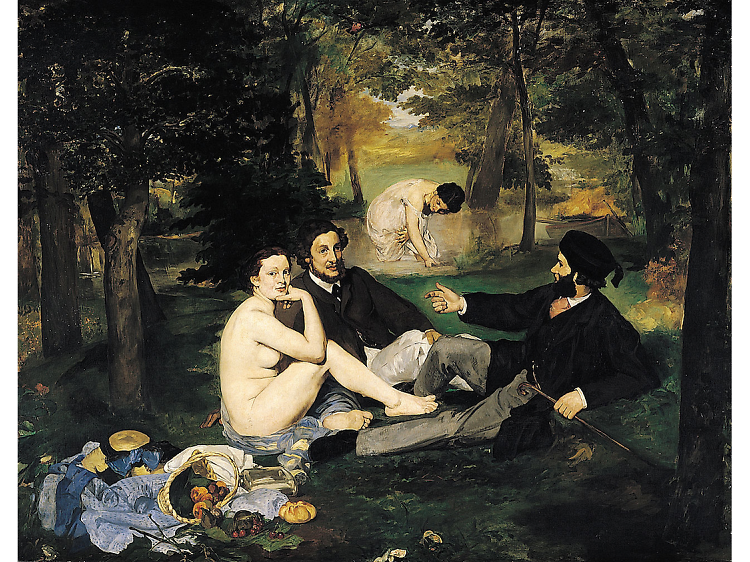 3. 'Le Déjeuner sur l'Herbe' – Édouard Manet (1863)
Musée d'Orsay
Presented at the Salon des Refusés in 1863, 'Le Déjeuner sur l'Herbe' provoked a scandal, as much for its subject as for its execution. With this pastoral scene, Manet cocked a snook at the predominant tastes of his era (characterised by a pretentious eroticism) and managed to shock with one of the most common images in painting: a female nude. Because this one was placed between two men in contemporary costume, there was no possibility of allegorical or mythological interpretation, and the direct gaze of the woman left no doubt that this was a painting about sex – even the upturned basket of fruits suggested that cherries weren't the only things nibbled on during this picnic.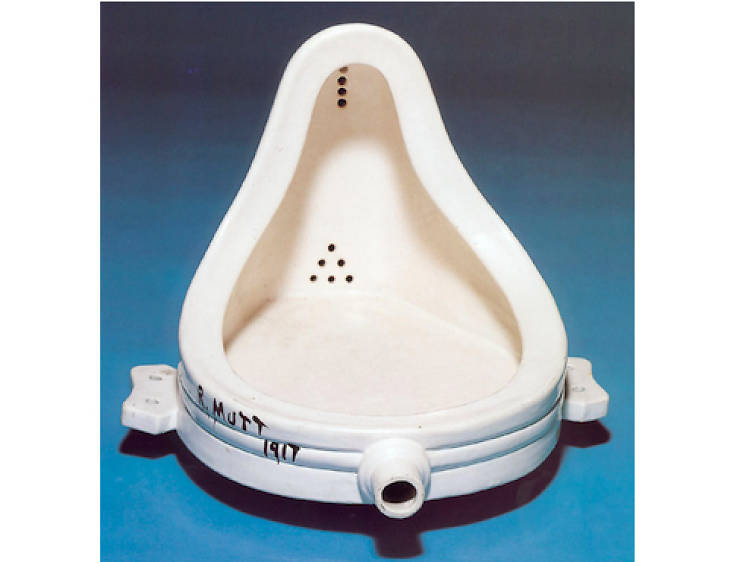 2. 'Fontaine' – Marcel Duchamp (1917)
Centre Pompidou
Duchamp probably never imagined that we would still be talking about his superficially infantile visual jokes more than a century after their creation. Provocation, pre-punk gesture or an ironic bone thrown to the critics? Plenty of ink has flowed on the subject of this urinal, for better or worse indelibly inscribed in the annals of art history as the death knell for a certain idea of modernity. Through his 'ready-made' pieces, Duchamp acquired a tranquil state of indifference vis-à-vis artistic opinion, and remains one of the coolest French artists of the last century – in a way, he gave it its Mona Lisa.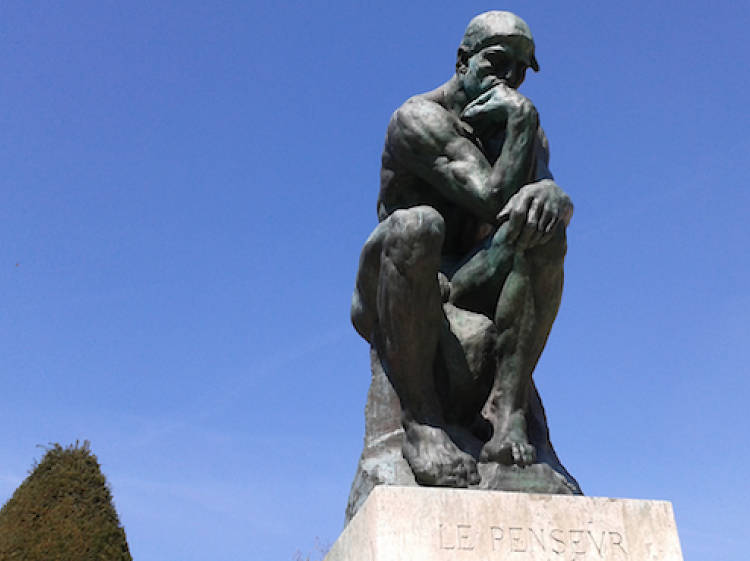 1. 'Le Penseur' – Auguste Rodin (1904)
Musée Rodin
Rodin's famous 'thinker' is a bit like the Superman of sculpture – a fine mind in an athlete's body, who gives the impression of carrying the weight of the world's cares on his shapely shoulders. He was created as part of a monument celebrating Dante's 'Divine Comedy', and was originally called 'The Poet', a representation of Dante contemplating his works in front of the gates of hell. Adored by the public, the sculpture became one of Rodin's – and the world's – most iconic works, assuming an aura of anonymity and allegory and becoming a sort of metaphor for existential questioning. Go and mull it over yourself.
This article was originally published on TimeOut.